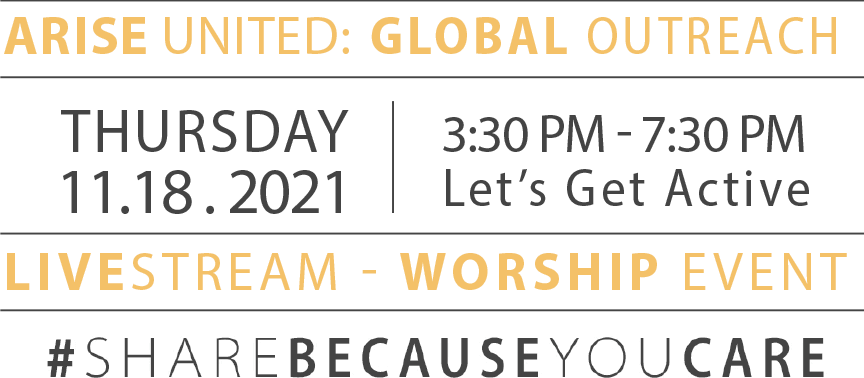 WE INVITE YOU TO JOIN US FOR
ARISE UNITED: GLOBAL OUTREACH – LIVESTREAM WORSHIP EVENT
You can expect powerful messages of hope and inspiration, amazing testimonies, beautiful stories of God's grace and anointed worship that reaches the hearts of people from all generations! Our focus for Arise United this year is to encourage all believers, everywhere, to be imitators of Jesus Christ, and share the good news of the Gospel, far and wide. When we share our faith, we make it possible for everyone to experience the immeasurable goodness of God. This is what we have been called to do (Mark 16:15). The time is now… Let's get active!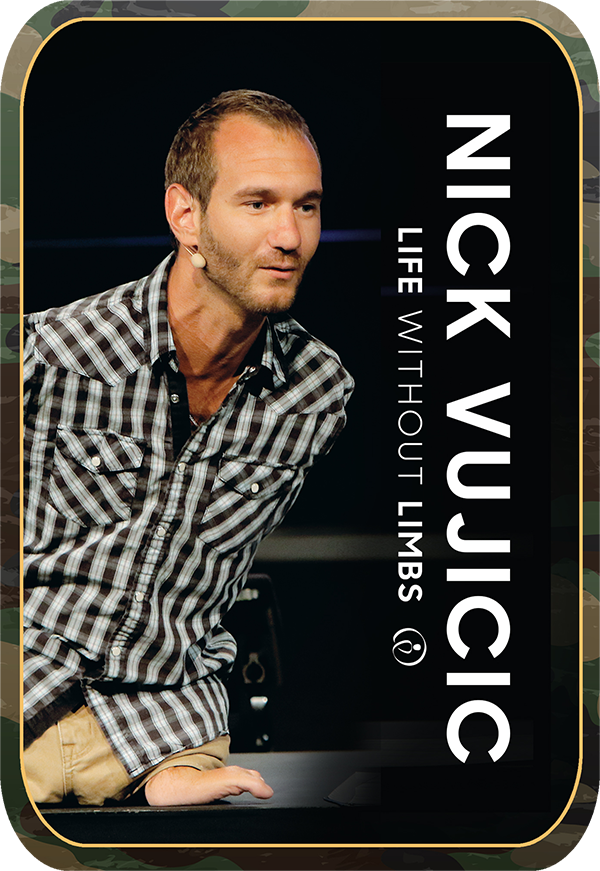 Nick Vujicic
Evangelist, international motivational speaker and New York Times best-selling author
Nick Vujicic (pronounced "Vooycheech") was born in 1982 in Melbourne, Australia.
Without any medical explanation or warning, Nick came into the world with neither arms
nor legs. Throughout his childhood, Nick dealt not only with the typical challenges of
school and adolescence, such as bullying and self-esteem issues, he also struggled
with depression and loneliness as he questioned why he was different from all the other
kids. He couldn't get the haunting question of "Why was I the one born without arms and
legs?" out of his head.
As Nick grew up, he learned to deal with his disability and gradually accomplished more
on his own. A janitor at his high school inspired him to start speaking publicly about
overcoming adversity, so Nick starting speaking to small groups of students when he
was 17.
"…he also struggled with depression and loneliness as he questioned why he was different from
all the other kids. He couldn't get the haunting question of 'Why was I the one born without arms
and legs?"
After high school, Nick went onto tertiary education and obtained a double Bachelor's
degree, majoring in Accounting and Financial Planning, from Griffith University in
Logan, Australia. By the age of 19, Nick started to fulfill his dream of encouraging other
people by giving speeches revolving around his life story. He found the purpose to his
existence, and also the purpose in his circumstance.
Nick eventually made the move from Brisbane, Australia to Los Angeles, California,
where he is the founder and president of an international nonprofit organization, Life
Without Limbs, and owns the motivational speaking company, Attitude Is Altitude. He
married the love of his life, Kanae, in 2012, welcoming their first son, Kiyoshi, in
February 2013 and their second son Dejan, in September 2015.
Since his first motivational speaking engagement back when he was a teenager, Nick
has traveled to over 57 countries, sharing his story with over 400 million of people. Nick
is the author of Life Without Limits, Unstoppable (a New York Times best-seller),
Limitless, Stand Strong and Love Without Limits. His books have been translated into
over 30 different languages and have sold more than a million copies internationally.
Nick's story continues to resonate worldwide, and he has been featured on "CBS
Sunday Morning," "Oprah's LifeClass," "PBS Religion & Ethics News Weekly," USA
Today, NewsMax, "Life Today" and "The 700 Club," and twice on "60 Minutes Australia."
Christianity Today magazine named him one of the "33 under 33" who are shaping the
next chapter in American faith.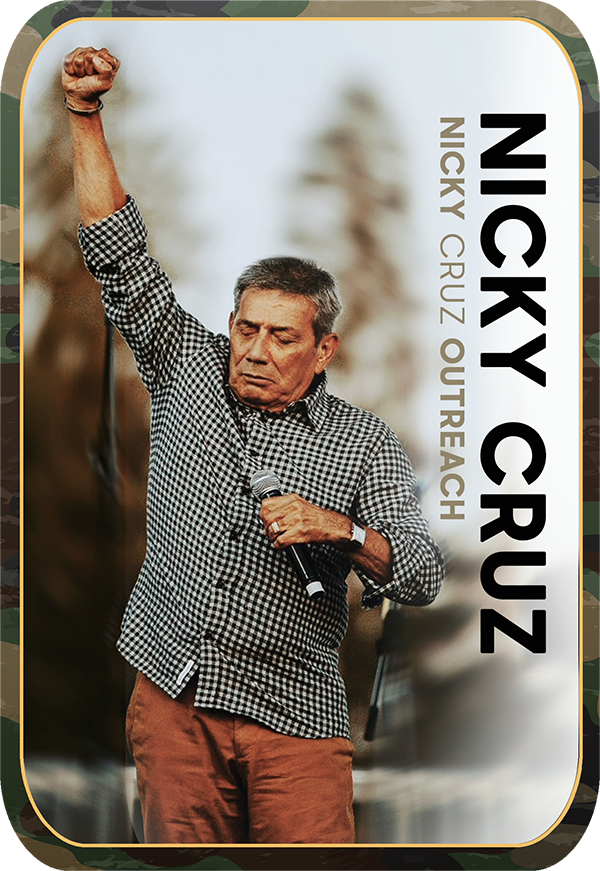 Nicky Cruz
Nicky Cruz is the best-selling author of 17 books, including the all-time Christian classic, Run, Baby, Run, published in 1968 and translated into more than 40 languages worldwide.  It continues to be a top-10 best seller in England, and is required reading in many high school curricula in the UK, Finland, Australia and New Zealand.  A full-length Hollywood feature film based on Nicky's life called A Thousand Pieces is currently in pre-production, screenplay written by Gregory Anderson (Stomp the Yard).
Cruz was raised in Puerto Rico.  His parents were heavily involved in witchcraft and spiritualism, and as such, Nicky was the victim of repeated physical abuse and rejection at their hands.  In an attempt to escape his violent upbringing, Nicky fled to New York City in the mid 50s where he soon got caught up in the gang violence that was sweeping the city.  Fearless and seemingly immune to physical pain, Cruz rose through the ranks of the notorious Mau Mau gang in Fort Greene, Brooklyn to become their War Lord.
Cruz' life was a downward spiral of violence and dysfunction.  A court-ordered psychiatrist told the court and Nicky that he was "doomed…finished…on a one-way trip to jail, the electric chair and hell."  Then one day a skinny preacher – David Wilkerson – came to the war-torn streets of Brooklyn delivering a message to Nicky – "Jesus loves you, Nicky."  Cruz threatened to kill the preacher, but several weeks later at a rally at the St. Nicholas Arena in NYC – Cruz surrendered his life to God and exchanged his weapons for a Bible.
For the past 50 + years, Nicky has been traveling around the world reaching tens of millions of people who are desperate to find hope.  His life story has been told in the best-selling book, The Cross and the Switchblade, and in the movie by the same title, which starred Pat Boone and Erik Estrada.  Cruz continues to minister in inner cities, prisons, and stadiums personally speaking to hundreds of thousands annually.
He is the president of Nicky Cruz Outreach and the Executive Producer of TRUCE, an internationally acclaimed urban outreach and youth training initiative.  The Wall Street Journal describes him as the "Billy Graham of the streets".
Nicky is the father of four daughters and ten grandchildren.  Nicky lives in Colorado Springs with his wife, Gloria.
Nicky was recently awarded the degree of Doctor of Divinity by the Latin American Theological Seminary, as well as Doctor of Philosophy in Christian Therapy from Dayspring Christian University.
If you would like to learn more about Nicky Cruz Outreach, please visit us at www.nickycruz.org, Facebook: Nicky Cruz – Official and Twitter: @NickyCruzOrg.  Information about the upcoming movie can be found at www.thousandpiecesmovie.com.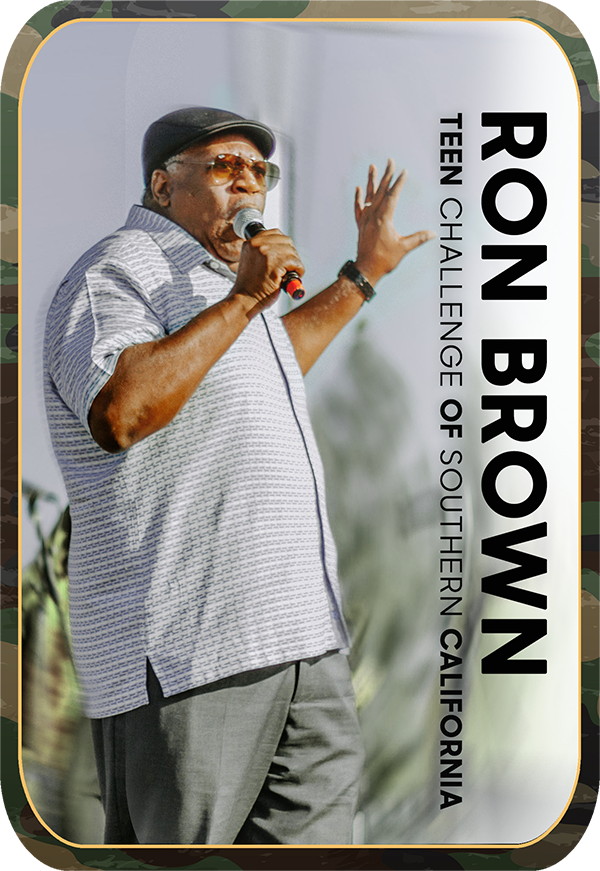 Ron Brown
Ron Brown, Executive Director
Teen Challenge of Southern California
 As Executive Director, Ron Brown oversees the ministry of Teen Challenge Southern California and its ten ministry locations, including the areas in and around Kern County, Ventura/Tri-County, Los Angeles County, Orange County, Inland Empire, San Diego County and Central Valley. H has served for 18 years, leading multiple residential sectors and various evangelism outreach and prevention efforts to stem the tide of addiction in Southern California communities.
In addition to his duties as Executive Director, Ron is passionate about leadership development and encourages pastors and Christian leaders through conferences, seminars and church leadership forums nationally and internationally.
Ron has been involved in ministry for 38 years; 10 of these as a bi-vocational minister. He served 8 years with the Los Angeles Rescue Mission, working with the homeless and addicted living on the streets of Los Angeles. More than anything, Ron is a worshipper of God and simply believes that the love of Jesus is stronger than the bondage of sin and addiction and through the power of God's grace, no one is beyond Christ's redemption. He and his wife, Demetra, have two daughters, two wonderful sons-in-law, and eight amazing grandchildren.
ARISE UNITED
GLOBAL OUTREACH
WORSHIP TEAM
TEEN CHALLENGE
WORSHIP EXPERIENCE
TCWE CHOIR
SWOOP BROWN
ARMED & FAITHFUL
WORSHIP TEAM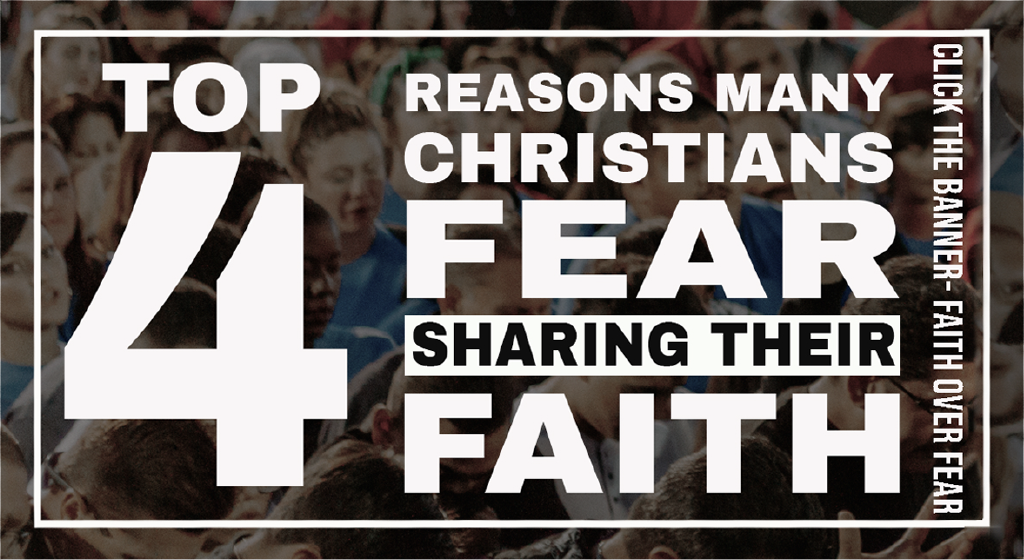 Top 4 Reasons Many Christians Fear Sharing Their Faith
Fear #1: What Will People Think?
Our greatest hesitations come from wondering what others will think of us and how they will react.
It's a vulnerability to share such a personal message and can often feel like it's a personal jab if met with resistance. Rejection stings, and we often fear taking a risk because we are afraid of how others will take it.
Truth: For God has not given us a spirit of fear and timidity, but of power, love, and self-discipline.
-2 Timothy 1:7 NLT
Fear #2: What If I Say Something Wrong?
We put a lot of pressure on ourselves to say the right thing and get it all perfect. After all, someone's salvation hangs in the balance depending on what we say, right? (Not so.) We tend to put unneeded pressure on ourselves and don't want to mess it up in case our message is misunderstood, or we give them wrong information. It isn't up to us to bring people to salvation. God, by His Holy Spirit, prepares and turns hearts towards Him and will use any and every conversation for His great purposes.
Truth: … don't worry in advance about what to say. Just say what God tells you at that time, for it is not you who will be speaking, but the Holy Spirit.   -Mark 13:11 NLT
Fear #3: What If I Stumble While People Are Watching?
We all slip and stumble. It's part of walking through this world. We will always have trouble, and we are human. Jesus told us we would run into trouble, and sometimes, we fall into it on our own. When we sin, when we say or do something that doesn't reflect God's goodness, we fear it will turn people away.
Truth: The faithful love of the Lord never ends! His mercies never cease. Great is his faithfulness; his mercies begin afresh each morning.  -Lamentations 3:22-23 NLT
Fear # 4: How Do I Share What I Believe?
Often, we think of sharing our faith and are paralyzed by the message. How do I verbalize what Jesus means to me? How can I say it in a way that makes sense and people aren't offended? It's too important for me to handle on my own. Sometimes, we're so unsure of where to start, that we never begin.
Truth: So don't worry or be afraid of their threats. Instead, you must worship Christ as Lord of your life. And if someone asks about your hope as a believer, always be ready to explain it.   – 1 Peter 3:14-15 NLT