The story of how Teen Challenge of Southern California was impacted by the Thomas Fire in early December is a report of both loss and blessing.
Near midnight on December 4, the ladies on our Ventura campus were alerted by the sheriff that the fire was rapidly approaching and within just a few minutes our staff and students were evacuated to the Ventura Fairgrounds. Early the next afternoon the fires completely burned the hills surrounding our center and blowing embers ignited one of the three main buildings of the main ranch house. This building housed 30 students and also contained all our staff offices. By nightfall the building was a total loss.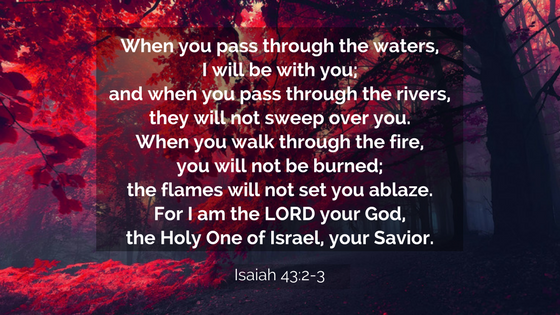 Isaiah 43:2–3 is a favorite verse cited by many students across our Southern California campuses—and the truth of that scripture rings true now more than ever.
But I am so grateful to share with you that, even with this loss, God's hand of blessing kept the fires from being so much worse. Here's how. About two months before the fire, a portion of our property was selected by SoCal Edison as a temporary storage location for heavy equipment used in a major project. When the fire threatened, a 3-man firefighting team was dispatched to protect the equipment. Once that threat was over, one of the team members drove up the hill and discovered our buildings, one of which was already on fire. By telephone the firefighters coordinated with Teen Challenge staff and received permission (needed since they were a private firefighting crew) to try containing the fire to the one building and, if successful, save the remaining two ranch house buildings. Without these firefighters, it is certain that all three buildings would have been lost. Also, I'm glad to share that our recently constructed kitchen and dining room remained untouched by the fire.
And our life-changing work continues.
On December 6, the operations of Ventura Teen Challenge were temporarily moved to Bakersfield where they now share facilities with the women's induction center there. Our properties are fully insured and we are working with the insurance adjusters and contractors to rebuild as quickly as possible. It is our goal to return to Ventura as soon as we have the necessary permissions and infrastructure in place.
But the damage to the Ventura campus has impacted all eight of our Southern California centers. Each one has responded to this emergency and all are helping to see that our students' needs are met. Meanwhile, normal financial needs continue for each of our centers during this time of recovery, as well as extraordinary expenses involved in bringing Ventura back on line. At this time, all of our centers need your support more than ever.
Thank you for remaining faithful in your prayers and financial giving.
God is faithful. May God bless you as Teen Challenge of Southern California continues to do the work He has called us to.
Share This Story, Choose Your Platform!