#GivingTuesday 2017 Benefiting
Timothy House Boys Home
Thank you to everyone who helped us make our goal!
All #GivingTuesday 2017 funds will benefit Timothy House, our residential recovery home for teen boys.
Many of those asking for help cannot afford Timothy House tuition and fees. That's why the Timothy House Scholarship Fund exists.
In order for us to adhere to stringent California state regulations, it takes more than $100 to cover each boy's expenses for one day. Your #GivingTuesday donation will contribute toward the fund that covers the costs for those who need help and can't afford it.
TOTAL RAISED: $64,098 of $60,000 Goal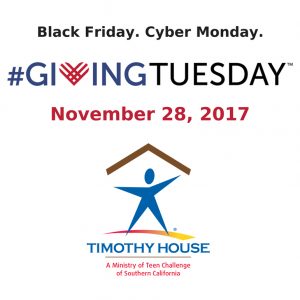 This year, our goal is to raise $60,000 on #GivingTuesday for the Timothy House. A generous donor has stepped up and promised to match all donations up to a total of $10,000! Will you join them and make a difference in the lives of these boys?
Please make a donation today and help us reach our goal this year to support boys in recovery.
Here's how you can help:
One boy's meals for a day = $14
One boy's school curriculum for a month = $35
Timothy House transportation costs for a week = $50
One boy's meals for a week = $100
One boy's expenses for 5 days = $500
One boy's expenses for an entire month = $3,000
Thank you for helping! Your generosity will make a difference in a boy's life.
Help us make #GivingTuesday a success!
1. Share on social media: Take an "Unselfie" photo of yourself holding a sign sharing why you support Teen Challenge of Southern California and upload to Instagram/Twitter/Facebook. Use the hashtag #GivingTuesday and tag @TeenChallengeSouthernCalifornia or Twitter @SCTeenChallenge.
2. Nominate someone: Let others know they can support TCSC through #GivingTuesday.
If you have questions about your gift, please call our office at 951-374-0655.
Located in Orange County, Timothy House is a faith-based home for teen boys and an adolescent recovery ministry of Teen Challenge of Southern California. For more information, please visit octimothyhouse.org.