There's Black Friday, Cyber Monday, and now a worldwide day for giving back —

#GivingTuesday!
All #GivingTuesday 2019 funds will benefit Timothy House, our residential recovery home for teen boys!
Many of those asking for help cannot afford the modest fee we charge at Timothy House to help cover expenses. That's why the Timothy House Scholarship Fund exists.
In order for us to adhere to stringent California state regulations, it takes $100 to cover each boy's expenses for one day. Your #GivingTuesday donation will contribute toward the fund that covers the costs for those who need help and can't afford it.
This year, our goal is to raise $60,000 on #GivingTuesday. 
A generous donor has stepped up and donated the first $10,000! Will you join them and make a difference in the lives of these boys?
For 55 years we've relied on the faithful financial support of friends who stand behind God's plan to redeem and restore relationships.
You can help us with your #GIVINGTUESDAY Gift.
Please make a donation today and help us reach our goal this year to support boys in recovery.
Here's how you can help:
One boy's meals for a day = $14
One boy's school curriculum for a month = $35
Timothy House transportation costs for a week = $50
One boy's meals for a week = $100
One boy's expenses for 5 days = $500
One boy's expenses for an entire month = $3,000
Thank you for helping! Your generosity will make a difference in a boy's life.
Help us make #GivingTuesday a success!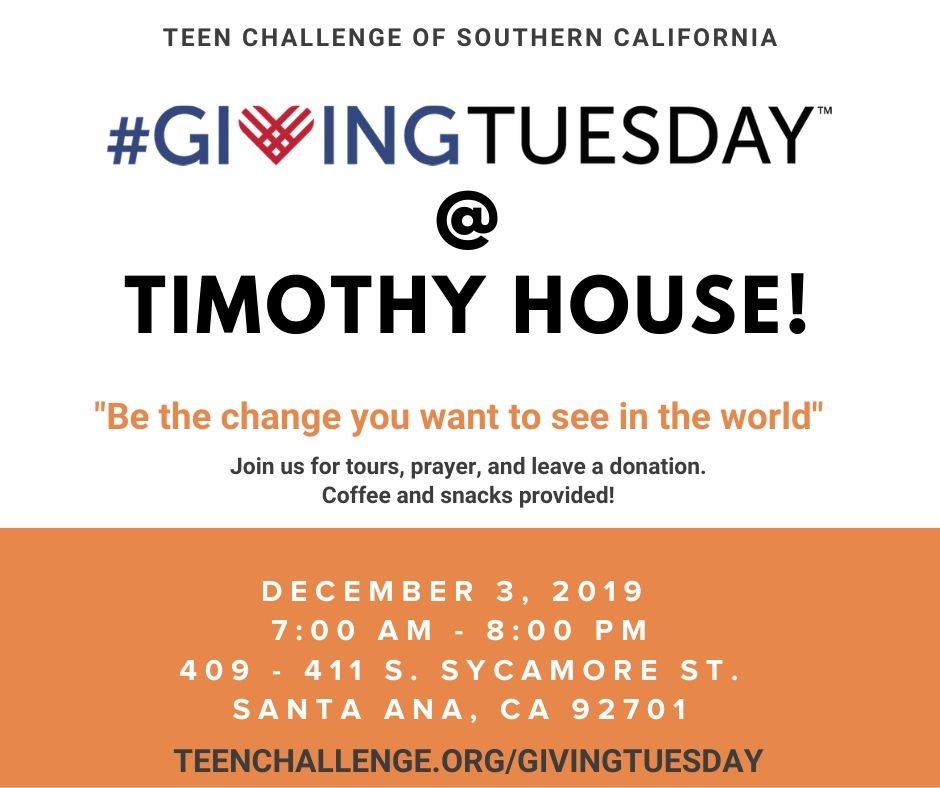 Located in Orange County, Timothy House is a faith-based home for teen boys and an adolescent recovery ministry of Teen Challenge of Southern California. For more information, please visit octimothyhouse.org.